ISDA Certified Grade A Dairy

RAW Goat & Cow Milk - Pasteurized Goat Milk & Products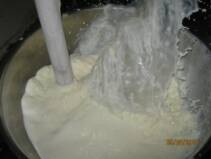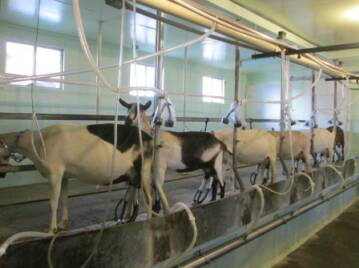 It is milk taken straight from the animal, filtered, and rapidly cooled to 36-38F. Absolutely no processing!

Goats milk is naturally homogenized and will not separate on it's own, although after a few days a ring of cream will collect on the top of the jug.

The dairy parlor is set-up with a complete pipeline system, where the cows and goats are milked by machine twice a day (left & below).

Udders are kept shaven for cleanliness and washed with a peroxide dairy wash before milking. Post dip is applied to prevent mastitis.

The cow milk is filted and dumped into a small bulk tank, where it is quickly cooled and stored at 34F, until bottled and shipped to the retail markets (left).

As our dairy is certified Grade A, the entire facility, including milk processing area, equipment, parlor, livestock barns/corrals, and waste water containment, is inspected several times a year. Milk samples, one of each product, are also collected monthly by an ISDA inspector, and taken to the dairy lab. There, tests are ran on the milk to check for standard plate count bacteria, coliform, and somatic cell count. Milk samples may also be checked for Q-Fever.

We are required to test the milking goat and cow herds for Tuberculosis and Brucellosis yearly. All the cows are vaccinated against Brucellosis.

All milk produced at a Grade A facility, unlike that of the Small Herd Exemptions, is required to be tested for antibiotics before being bottled or sold.

Animal Feeding, Health Care, & Housing

Our cows and goats enjoy large irrigated pastures through-out the growing season. They are also fed high quality non-GMO alfalfa hay and a non-GMO grain mix we personally make! No commercial grain mixes or GMO feeds are fed! Fresh water and vitamin/mineral supplements are always available.

The goat and cow herds are regularly treated for internal and external parasites using approved dairy-animal wormers.

Antibiotics are only used in an emergency where the animal's wellbeing is in danger. Sick animals are immediately pulled off the milk line until completely well, and all medication withdrawals have been completed.

We do not give any hormones to increase milk production in the goats or cows.

Proper housing is provided for all the animals. Goats have large inclosed barns with hay feeders undercover for winter feeding. Young kids are housed by size and age groups, and always seperate from adults. Pregnant does are also separated from the main milking herd during the last two months, as goats do love to challage each other and fighting can be fatal to the unborn kids.

The cows have a large covered area for sleeping which is warm and dry, with a hay feeder which keeps feed unsoiled. The concrete barn yard is regularly scrapped to keep the animals clean and comfortable.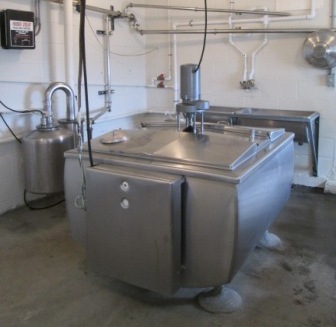 Cream is often separated from a portion of the cow milk using a vintage stainless cream separator (right).

When the milking has been completed, the milk lines and all equipment are rinsed and washed with two different cleaners, and the entire milking parlor, and adjacent milk rooms, are hosed down.

The chilled milk is bottled in plastic dairy containers, with tamper evident caps (top & right). Due to our Grade A certification, our milk must be packaged with an approved bottler/capper. Glass bottles can not be used with our equipment.

The goats milk is also filtered as it flows from the stainless pipes, and immediately ran through a flash cooler and chilled to below 40F.

Our custom built refridgerated box for transporting the products to retail markets within the state of Idaho (above & right).

BOISE - Boise Co-op North End

888 W Fort Street

CALDWELL - Cliff's Country Market

217 Blaine Street

FRUITLAND - Total Health

1225 NW 16th Street

KETCHUM - NourishMe

151 N Main Street

MERIDIAN - Boise Co-op The Village

2350 N Eagle Road

Whole Goat Milk

Gallon - $8.50

Half Gallon - $5.50

Pet Milk

Out dated milk is often available for pet use at $2/gallon frozen.

Whole Cow Milk

DISCONTINUED

Cow Cream

DISCONTINUED

Prices of products at the farm only. We keep a very limited selection at the farm so please preorder if you're in need of large amounts. Raw goat milk we can do with 24 hour notice. Pasteurized goat milk is bottled on Fridays typically.

Raw milk that is over 4 days old is offered 50% off!

*Call for availability

The farm store is open during daylight hours, year around. Stop by anytime and see the operation and pick up milk. It is usually best to pre-order so we can reserve it for you. Large quantities do need to be preordered. We keep little milk in stock to ensure it is always fresh.

Milk that is over 4 days old is offered 50% off!

Purchase Your Milk Directly From the Dairy!

Don't forget to bring a cooler with ice to ensure your milk stays cold during transporting, for the best taste and longest shelf life!

A delicious, all natural drinkable yogurt full of probiotics!

Available in Vanilla or Black Cherry flavor, and plain/unsweetened.

DISCONTINUED PRODUCT

Whole Goat Milk

Gallon - $8.50*

Half Gallon - $5.50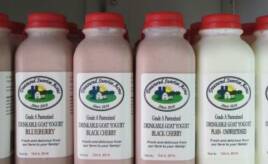 See the video on our facebook page of the goats and cows in the parlor being milked!

Ingredients: Pasteurized goats milk, organic cane sugar, pure berry/fruit concentrate, yogurt cultures (Streptococcus thermophilus, Lactobacillus delbrueckii subsp. Bulgaricus, Lactobacillus acidophilus, Bifidobacterium longum, Bifidobacterium infantis)